cz | eng
Linguafilm Czech Vol.1
In the first part of the exciting Linguafilm Czech educational project, we have captured – on film as well as on the printed page – an initial series of twelve episodes. Each episode is taken from a real-life situation and has been filmed in an authentic environment. Our aim throughout has been to make these films as interesting as possible, and, whilst the emphasis has been on conventional situations, the setting, storyline and characters may be unusual, and there is plenty of humour, irony and surprising twists to the story! The focus is on phrases, expressions and vocabulary that are in common usage, and while listening, students can follow an English, Russian, German or French translation.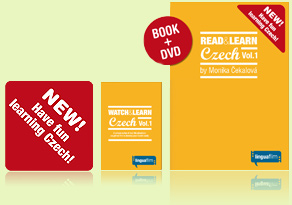 Linguafilm Czech Vol.1 – interactive teaching material suitable both for beginners and advanced students. 12 stories captured on film on DVD, accompanied by a colorful book with texts on themes such as: Internet café, Hotels, Bowling and darts, Dry cleaners, Motorcycles, City public transport, General practitioners, Language schools, Estate agents, etc.
The Linguafilm Czech package enables you to do the following:
DVD
follow the films with Czech subtitles
follow the films without any subtitles DVD preview
BOOK
read the original dialogues in Czech
refer to the English, Russian*, German* or French* translation of the Czech original
check the pronunciation using the phonetic transcription provided
translate bits of dialogue from Czech into English, Russian*, German*, French* or vice versa
perform a play-reading of the Czech dialogues with friends
reconstruct the dialogues on the basis of the "dictionary" form of particular words
find out many interesting and important facts about the topics touched upon in each episode
gain valuable contact information
find places on the maps of Prague, the Czech Republic, and Europe
DVD + BOOK
follow each episode on the DVD with the sound turned down and proceed to dub the part of particular characters, with the help of the time code provided
---
*
The accompanying text for Linguafilm Czech Vol. 1 book is written in the Czech-English version. A Russian, German or French translation of the Czech original is provided separately and free of charge.
Unique book
for learning
Czech
with accompanying films on
DVD
Learn
Czech
by watching films